12m displacement cat finally launched
Our Roger Hill designed 12 m displacement cat has had its first outing on theTauranga Harbour.
Driven by twin 170hp Hyundai diesels on conventional shafts, the craft notched up a top speed of 24 knots. The displacement mode created a strange sensation for those not used to a boat resisting the normal habit of wanting to plane when the power goes on. Its sharp bow cut effortlessly and extremely smoothly through the largest waves found on the day – unfortunately just under a metre in the harbour entrance.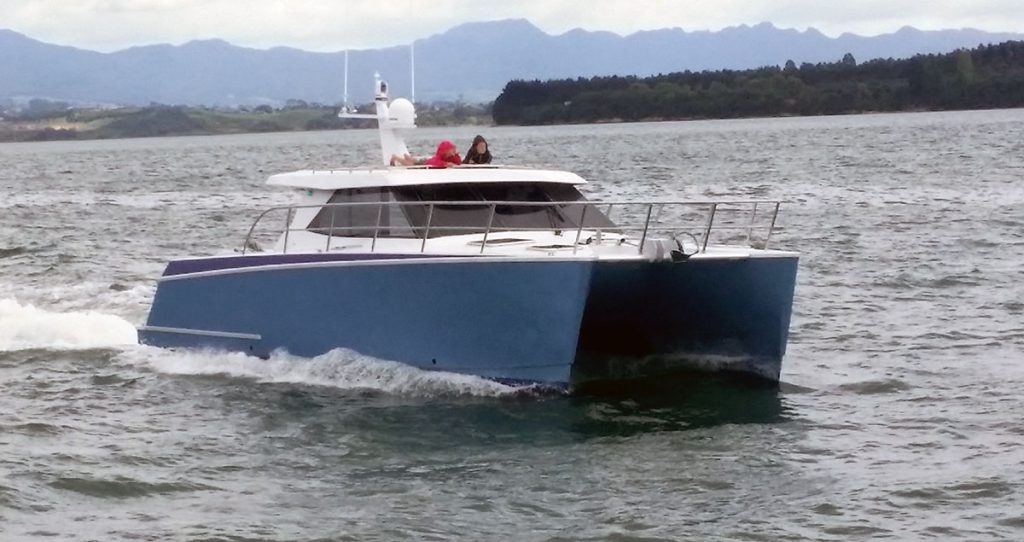 Latest performance data. Half fuel, full water tanks but minimal personal gear loading. Sea conditions – half metre chop.
8 knots, 9.6 litres per hour total both engines
11 knots, 16 litres per hour total
15 knots, 26.6 litres per hour total
20 knots, 43 litres per hour total
24 knots, 70 litres per hour total.
For the 60 nautical mile trip from Auckland to Great Barrier Island or Tauranga to Great Mercury Island, cruising at 15 knots would take 4 hours and use 106.4 litres of diesel at today's cost of about $81!
At 20 knots it would be a 3 hour trip at a cost of $100. (Diesel at $0.77 per litre). Please note sea conditions and boat loading will influence this data.