Roger Hill 12m Displacement Hull Powercat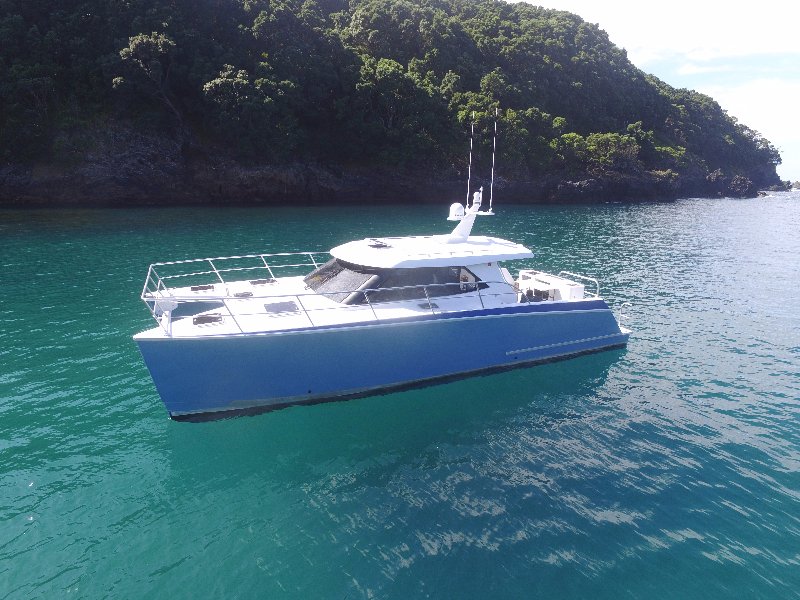 Roger Hill 12m Displacement Hull Powercat
This Roger Hill design is exclusive to Kingfisher Boats and features a displacement hull with exceptional economy and performance.
The 12m displacement hull power catamaran, designed by world-renowned yacht designer Roger Hill exclusively for Kingfisher Boats, is a large volume vessel with serious bluewater capabilities. Comfort and efficiency are the main hallmarks of a vessel that serves as the perfect platform for extended time on the water. This boat presents it all with elegance and class.
The interior features a large double berth forward to port, two singles to starboard, and a single in hull under saloon. On the main deck there is a cockpit head, galley, settee with dining table and a centre line helm station.
Having built many of these we are also able to customise interior layout and specifications to suit your specific needs.
https://powerboatmagazine.co.nz/kingfisher-1200/
Power options available from twin 90hp outboards up to twin 270hp inboard diesels on shafts, optimum engine size is around 160 hp for a top speed of around 23 knots. A couple of iterations have used larger engines of 270 hp with a small gain in top speed and no real difference in economy. The larger engines are more difficult to access for servicing in the narrow displacement hulls as well. Some clients prefer to have more than enough power, it's their choice.
Half fuel, full water tanks but minimal personal gear loading. Sea conditions – half metre chop.
8 knots, 9.6 litres per hour total both engines
11 knots, 16 litres per hour total
15 knots, 26.6 litres per hour total
20 knots, 43 litres per hour total
24 knots, 70 litres per hour total
For the 60 nautical mile trip from Auckland to Great Barrier Island or Tauranga to Great Mercury Island, cruising at 15 knots would take 4 hours and use 106.4 litres of diesel. Please note sea conditions and boat loading will influence this data.
With twin 270hp diesels the next vessel launched had these performance figures:
| RPM | Speed in kts | Fuel – L/ph |
| --- | --- | --- |
| Idle – 680 | 4.5 | 1.5 |
| 1000 | 5.9 | 3.7 |
| 1500 | 8.5 | 9.5 |
| 2000 | 11.7 | 21.3 |
| 2500 | 16.1 | 33.4 |
| 3000 | 19.8 | 50.7 |
| 3500 | 23.2 | 76.1 |
| Max – 3850 | 25.7 | 105.8 |
Boat Details
Length Overall:

12m

Displacement:

8400 kg

Fuel capacity:

800 litres

Fresh water:

400 litres

Draft

0.75m